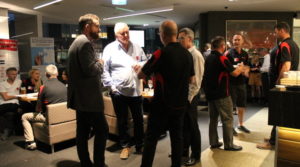 In February this year, CHN Partners sponsored the inaugural Graffiti Eaters & Elite Myotherapy Annual Conference for their franchisees held at Mantra Bell City.
We were proud that we were able to support a long-term client of the firm with this initiative.
The conference was an invaluable opportunity for franchisees from across the country to meet, ask questions and bounce ideas of one another. Add to this the chance to interact with presenters from a variety of sectors and a full day dedicated to practical on-job and technical presentations, franchisees were able to receive some highly valuable knowledge from investing in the conference.
Th
e Friday evening drinks held at Chill Bar & Restaurant was an opportunity to break the ice prior to the conference commencing on the Saturday. Grant Hammond as MC for the next two days laid out the expectations of the conference, including the adage "You get out what you put in".
The Saturday was an intensive day with many facets of business being covered off.
Tanya Camilleri, neuroscience coach, started the morning with a Keynote covering topics on how our brain works, emotional agility and neuroplasticity. Tanya was able to explain these somewhat complicated topics in a way that enabled attendees to build towards a success mindset.
Grant Hammond and Pat Bartuccelli spoke next, sharing some of their knowledge and stories from both working in and for petrol franchise company Caltex. With over 50 years combined experience, Grant and Pat provided some great incites into how a successful franchise is run.
Our own guru, Andrew Morris, presented on financial well-being, what that could look like and how do we get there. Andrew also introduced the room to various tips and tricks on running a small business and common pitfalls and how to avoid them.
Josh Jellet from Gardenstate insurance brokers was up next providing some key insights into how the insurance industry works, where it is heading and how it could impact us all.
In the final session before lunch, Brendan Rigby, owner of Inspire Fitness, got everyone up and about with some practical exercise examples to help keep your body in top shape, something vital for those working in the service industry. While there may have been a few 'grunts' and 'groans' during the stretching, everyone learnt a few tips and tricks to looking after their bodies.
The afternoon focused on getting business process' correct – a marketing update on how both groups are performing and what's next, some insight into the sales cycle and the importance of timing, techniques on how to really connect with clients and some specific IT systems training.
Finishing an intensive day, Narelle Fraser a former member of the Victoria Police gave some fantastic insights into overcoming adversities, stress management and promoting mental health.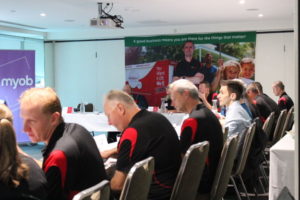 On Sunday, the attendees split into their various franchise groups and undertook some detailed franchise specific training, rounding out with a team building exercise in the afternoon.
Overall an amazingly successful weekend for both the Graffiti Eaters and Elite Myotherapy franchise groups and something that were proud to be able to support.