How to make your business appeal to a local audience
With trading across international and regional borders now more complicated and impractical, many business owners will be looking to their local communities for support, sales and (importantly) a regular level of income.
So, how do you change your business and marketing model to fit a more localised customer base – and what can you do to make your brand appeal to a local audience?
Becoming an vital part of your local community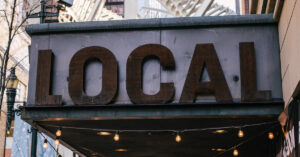 As the fallout from the coronavirus crisis, global warming and the reduction in air travel starts to bite, your local community may well be your saviours.
A recent study by Salesforce in the US found that 86% of respondants would spend more to shop with a local small business over a national chain. If you can create a brand that's well-known, trusted and applauded within your local area, this can give you an exceptionally strong levels of brand loyalty – not to mention a great pipeline of regular sales.
Here are a few ideas for appealing to this all-important local audience:
Having a local physical presence for your brand – if people see your brand out in the marketplace, that's a great way to reinforce your presence in the local business community. This could mean having a local store, a pop-up shop, or even getting your brand stock in local 'brick & mortar' stores
Using localised targeting for your online marketing – most social media and online advertising platforms allow you to get highly granular with your targeting – and geographical location is a variable you can use to your advantage. Aim your digital marketing at a local audience and target individuals who live in your locale – people who have an interest in your town, county, state or area.
Getting staff to reshare your social posts – your employees will have their own existing networks of friends, family and ex-colleagues in the online space. If your team gets proactive about resharing the company's social media posts to their contacts, this widens the local reach of your online marketing activity
Running local events and seminars – one way to bring your local audience to your door is to run events and seminars. If you run a breakfast seminar that offers valuable advice or product know-how, or run an evening drinks session that gives consumers a chance to trial, this all helps to position you as a valued local business for your customers and prospects
Getting involved in community and social responsibility (CSR) projects – being an asset to your community is definitely a good idea. By setting a CSR agenda, you can work with local charities, sports clubs and schools etc. to support their needs and raise awareness of your business in the community (reinforcing your company's core values at the same time).
Running a customer referral scheme – referrals are one of the very best ways to bring in new customers. Your loyal customers may already be recommending you to friends and family, so a customer referral scheme will reward them for this advocacy. Offer bonuses, discounts or prizes for existing customers who refer on a local prospect, and guarantee yourself a steady pipeline of new enquiries.
Sponsoring a local sports team – your local sports teams occupy a special place in the townspeople's hearts. By sponsoring a local team, you buy into that sense of loyalty that all sports fans have for their team. Having your logo on the team's shirts raises brand awareness amongst fans and sponsorship does something meaningful to support the community, bring money into the club and make your company a local asset.
Working with high profile local influencers – another way to get your message out to a wider local audience is to partner with existing local influencers – who will already have a pre-existing audience. If you have a local community of business broadcasters, podcasters, Instagrammers or YouTubers then build relationships with these people and look at ways to raise awareness of your goods/services via their channels.
Talk to us about reviewing your business strategy
If you're looking to increase your local sales, start by establishing some goals for local customer sales. We can help you define your tactics and put measurable targets in place to track your ongoing performance.